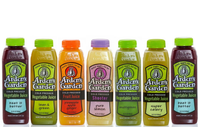 Love Your Liver Cleanse - 3 Days
What's Inside?
Ingredients

Beet It Better x3

Beets, Apple Juice, Ginger

Green Energy Machine x3

Green 

Energy Machine: Cucumbers, Celery, Apple Juice, Lemons, Spinach, Kale, Ginger

Pineapple Apple Ginger x3

Pineapple Juice, Apple Juice, Ginger

Multigreen x3

 

(or pH Solution)

Multigreen: Cucumbers, Celery, Spinach, Kale, Lemons      pH Solution: 

Cucumbers, Celery, Distilled Water, Spinach, Kale, Lemons

Beet It Better x3

Beets, Apple Juice, Ginger

Super Celery x3

Celery, Distilled Water, Lemons

Pure Lemon

Lemons
This cleanse is comprised of 19 juices taken over the course of 3 days. Please note this cleanse comes with 3 of each juice except for Pure Lemon.  Beginning June 2023, Green Energy Machine replaced Lean & Green.

What Is It?
The liver converts everything we eat and breathe into life-sustaining substances. It processes various nutrients and helps to reduce waste. The main point of a liver cleanse is to improve the function of your liver by giving it a break and letting it operate optimally. After the cleanse, re-introduce your body to raw veggies and fruits and stick to small, frequent meals for the next couple of days.                  
How Does It Work?
Before you start, we recommend that you prepare your body by increasing your consumption of raw veggies and fruits.
Breakfast: 2 tablespoons of Pure Lemon in 16 ounces of Distilled Water
Mid-Morning: Beet It Better
AM Snack: Green Energy Machine
Lunch: Pineapple Apple Ginger
Mid-Afternoon: Multigreen (or pH Solution)
PM Snack: 2 tablespoons of Pure Lemon in 16 ounces of Distilled Water
Dinner: Beet It Better
Dessert: Super Celery
Before Bed: 2 tablespoons of Pure Lemon in 16 ounces of Distilled Water           
*Note: Cold pressure processed with HPP